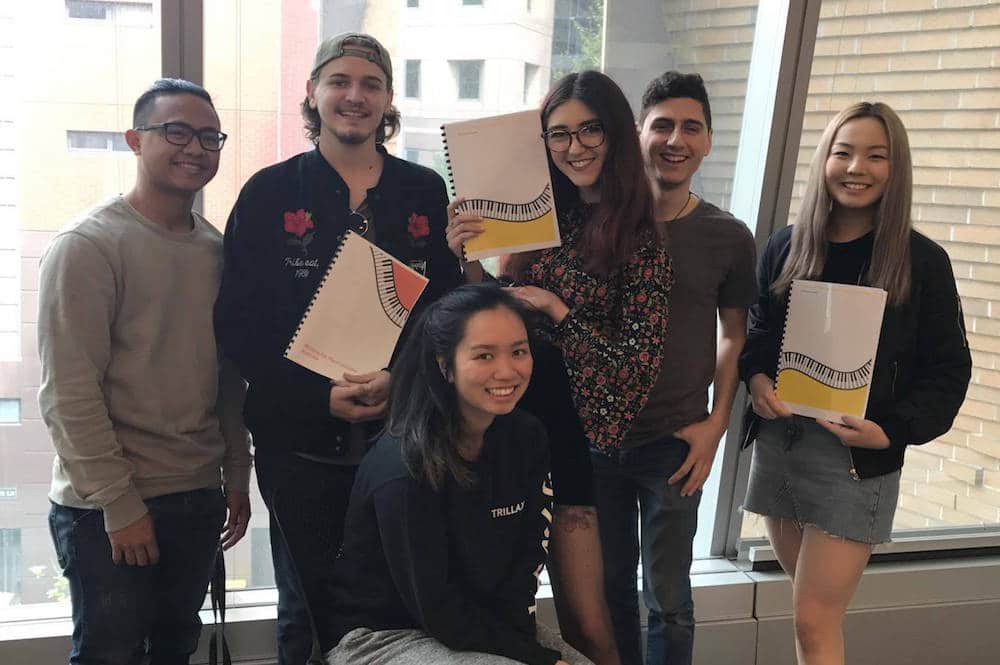 We are a network of
Uni Students looking for piano tutor work across Sydney….
We offer you 1 on 1 home piano lessons in Sydney for students of all ages & levels

If you are looking for an eager, professional & reliable piano tutor to come to your home – one of us will be available, & will be able to provide you a very reasonable piano tutoring rate.
Currently a student at the University of Technology, Sydney, I am an eager, professional and reliable piano tutor who loves working with students of all ages. I have been playing piano for 14 years and have 3 years of teaching experience. I love to teach students about contemporary and popular music. Kayla
Currently a Music student at the University of New South Wales, I am a Grade 8 Pianist studying for my AMusA in Piano, and have played piano for 14 years. I am most passionate about music from the Romantic period but am excited to teach my students music of all styles. Zach
Currently a Music student at the Conservatorium of Music in Sydney, and I have been playing piano for 16 years. I love all musical styles ranging from classical to jazz to contemporary hits. I am excited to share my passion for music and composition with my students. Ray
Currently a Music/Sound Production student at JMC Academy, I have been playing piano for almost ten years and am an experienced guitar teacher as well! I am passionate about everything to do with music and am most excited to watch my beginner students grow into professional musicians.
Eric-John
We are currently students at university's around Sydney. We live in various parts of Sydney and are looking for more 1 on 1 piano tutoring students in & around Sydney.
Frequently Asked Questions
Do I need to travel anywhere for my lessons?
We will come to your home, meaning you don't have to fight traffic to get to after school lessons.
What areas do you service? On which days of the week?
Depending on location, lessons can be held on any day of the week are taught around Sydney CBD, Inner West, North Sydney, Eastern Suburbs, Western Suburbs and for beginner students, Campbelltown.
Do I need to own a piano or keyboard?
Pianos may be out of some people's price ranges, but keyboards are perfectly fine for beginners. Introductory keyboards are an easy and affordable option for homes without a piano.
How old should my child be to begin piano lessons?
Children as young as five can begin learning the piano and basic music theory.
We are very experienced in tutoring young children who are complete beginners, and have all the patience and personality needed to engage your child and give them best start in their musical journey.
What styles of music do you teach?
We are qualified to teach all styles of music, whether you're interested in popular, contemporary, classical, jazz, or musical theatre.
However, we encourage our students to explore all genres to show them just how interesting the piano can be.
Am I too old to start playing the piano?
Absolutely not! There is no right age to begin learning a musical instrument, and the best time to start is now!
We can teach you your favourite songs, how to read music, theory, or just about anything you'd like to learn about the piano.
The piano is a fun and great way to exercise your creative abilities so don't just dream about it, start learning.
What are your teaching qualifications?
We are highly experienced in teaching students of all ages and skill levels, and have been playing for the piano most of our lives.
We have all undertaken a NSW Government certified "Working with children" police check, and you will soon discover we are very friendly and patient with children to make students comfortable with learning at their own pace.
Please email us now – Kayla (tutor & co-ordinator) will be in contact with you soon
Please leave a message with student info and suburb
Currently Servicing The Following Areas
Sydney CBD & Surrounding Suburbs
Penrith & Surrounding Suburbs
Sydney's Inner West
North Sydney
Sydney's Eastern Suburbs
Kayla teaches all three of our children piano lessons weekly and has done so for more than a year. She is great with the kids (ages 7 to 14). She is not only talented and knowledgeable about music, but also has passionate about the art form.
She has been excellent about keeping them interested and excited about music and performance. I highly recommend the teachers from Piano Lessons Australia!
Renoo Menard
Best Way To Build More Confidence For All Ages Many people think that private piano lessons are only something that you take when you are young. However, this does not necessarily need to be the case as piano lessons are suitable for people of all ages. You can also...
read more